Olympus DS range: Choosing a Dictaphone that's right for you
Olympus is known by a variety of business, legal, medical and research professionals for their high-quality products. Olympus DS Dictaphones are specially designed voice recorders that have editing functions built into the device.
The Olympus DS range includes three options, each with unique features that will suit your voice dictation needs.
DS-9000 – the premier Dictaphone option
The DS-9000 is Olympus' principal dictation recorder and is the leading model among all Olympus DS Dictaphones. Superseding the popular DS-7000 in early 2018, the DS-9000 has truly proven itself as a market leader in professional dictation. Designed for professional users, the DS-9000 boasts many security features including device lock, single-file lock and DSS Pro real-time encryption. This ensures that any confidential information you may record remains confidential.
Olympus carefully considered how Dictaphones are now used when designing their current range of Olympus DS Dictaphones. Many users will have their dictations transcribed either by a typist or through speech recognition software. Both of these avenues are reliant on high-quality audio.
This is why the DS-9000 incorporates low-noise omnidirectional microphones, shock-resistant mounting and a triple-layer pop-filter. These combine to reduce any background noise picked up from the wind, your hand or other disturbances.
Users can choose three different modes – dictation for quiet environments, dictation for noisy environments and conference recording mode.
The DS-9000 comes with a licence for the dictation module of the Olympus Dictation Management System (ODMS). The ODMS software has a variety of features including a configuration tool for Olympus professional Dictaphones, direct recording, management and editing of dictation files. ODMS also allows for automatic, real-time background speech recognition when used with Dragon speech recognition software.
Other notable features of the DS-9000 include:
The ability to hold up to 10 individual author IDs
2GB internal memory and up to 32GB external with SD card
Records in DSS, DS2 (DSS Pro), WAV and MP3 formats
Colour LED
Intelligent two-microphone system
Ability to prioritise files
Up to 7 folders with 200 files each
The DS-9000 comes in two package options, one with a docking station and AC charger, and one without these extras.
DS-9500 – the Wi-Fi compatible option
Many modern professionals don't work exclusively in the office which is why Olympus introduced the DS-9500. Launched alongside the DS-9000, this device features Wi-Fi compatibility operating on an android system.
The DS-9500 allows you to instantly send your dictations via email or folder transfer from any location. This is perfect for any professional who may have to travel for work or spend a lot of time out of the office. Simply connect your Dictaphone to any Wi-Fi source and you are ready to go.
The downside to this is that the DS-9500 takes significantly longer to start up due to the android operating system.  The DS-9500 comes with a docking station and AC charger.
DS-2600 – the budget-friendly option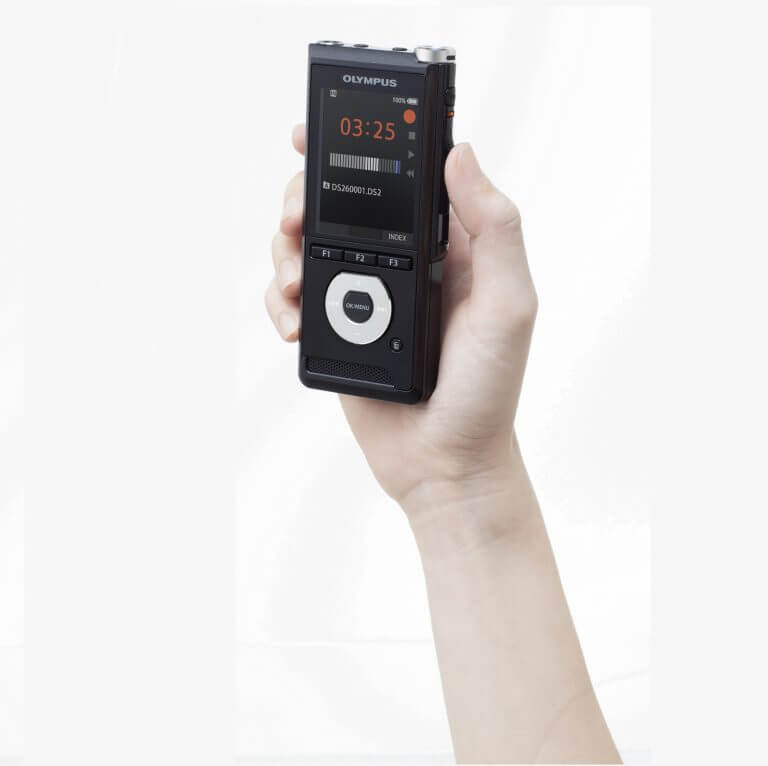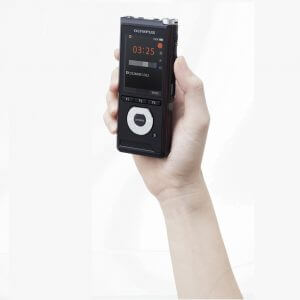 Professional Olympus DS Dictaphones can be quite expensive, so, they also have a budget-friendly business dictation recorder called the DS-2600. It has all the features of a regular Dictaphone including reviewing, inserting additional, and erasing unnecessary recordings. It also has background noise cancellation technology such as the studio quality pop filter and a variety of recording settings.
This device comes with a DSS Player Standard R2 Dictation Module Licence. This software has the ability to organise and archive dictation and transcription files for an individual. It also allows for direct recording to the PC.
Some notable differences between the DS-2600 and the DS-9000 include:
Only one author ID, rather than 10
Up to five folders of 200 files, rather than seven
Stereo recording
Records in DS2 (DSS Pro), WAV and MP3 formats
Olympus DS Dictaphones suit anyone needing professional voice recordings. Contact the Pacific Transcription Products team for more information. Learn more about the high-quality transcription services and products provided by Pacific Transcription, contact us online today or call 1300 662 173!
UPDATED 18/09/2022