Dictation and Transcription Software – Is there A Difference? You Bet There Is!
What are the distinctions between dictation and transcription software?
Is there a difference between dictation and transcription software?  You bet there is!  This is one of the most frequently asked questions professional dictation dealers in Australia hear from clients.  For dictators and transcriptionists, the differences are critical to their individual work. In fact, they are so profound that confusing them leads to neither the dictator nor transcriptionist being able to perform their jobs.
Many manufacturers of dictation and transcription software produce their software so that they are similar in look to each other.  This is as close as the similarities lie, but can cause understandable confusion when it comes down to purchasing and installing.
Pacific Transcription provides a wide array of dictation and transcription software. From the more affordable ExpressScribe by NCH to the top-of-the-line ODMS by Olympus, any purchase is an investment, and making sure you're investing in the right product is key. In other words, it pays to know the difference between dictation and transcription software.
Read on to find out exactly how to distinguish between the two.
It's all in the name – dictation software is for people who dictate and transcription software is for people who transcribe (type). Before purchasing your software, ask yourself; what am I using it for? Let's take a closer look at what each one is commonly used for…
Dictation Software
The term dictation software is sometimes used to describe speech-to-text software, such as Nuance's Dragon speech recognition software.  However, for the purposes of this article dictation software refers to the program that comes with a dictation device, such as the Olympus DS-9500 digital dictaphone, or the Philips DPM-8000 digital dictaphone.  This software is called dictation management software, or dictation software, for short.
Dictation software is used predominantly for personalising or applying individual configuration settings to a dictaphone and sorting recorded audio files into designated folders. Another common use is to set up automatic pathways for the dictations to flow to the transcriptionist. Once the dictaphone is docked, recordings will be sent to the typist according to the folder that is ascribed to them and the rules set up by the user.
The software can also be used to dictate directly into the computer, by using the Dictaphone as a microphone.
E.g. SpeechExec LFH4401, or ODMS AS-9001
Transcription Software
Transcription software is used by transcriptionists to make their typing work easier.  By slowing it down, speeding it up or removing background noise, transcription software enables the typist to listen to and control the audio, whilst typing what is heard.  Many transcriptionists also elect to use a foot pedal to free up their hands so they can concentrate solely on typing what they hear.
The term "transcription software" can refer to either a completely automated solution, or software which helps a human transcriber manually convert spoken audio into typed text transcripts. Brands such as Olympus and Philips sell transcription software designed to work in conjunction with their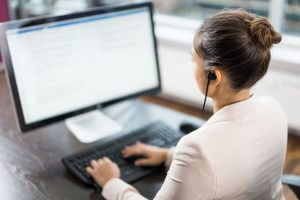 dictation software. Transcriptionists can have dictations downloaded automatically, sorted by priority and then have completed transcripts automatically sent to the right places.
Whereas, Express Scribe Transcription Software is essentially a high-tech audio player that is designed specifically for transcription. Just as with the ODMS and Speech Exec, Express Scribe can automatically download audio from a file location, has the same audio controls and allows the use of a foot pedal.
E.g. SpeecExec LFH4501, or ODMS AS-9002
Some examples of dictation and transcription software uses include:
| | |
| --- | --- |
| Dictation Software | Transcription Software |
| Organise and save files to specific folders in the software | Automatically retrieve dictations from folders |
| Record and then automatically download audio recordings to the PC | Playback audio recordings with options to slow down and speed up |
| Automatically distribute audio recordings (dictations) to transcriptionists or other users via email or FTP (efficient workflow management) | Change channel of audio playback between stereo, monoaural, left and right ear |
| Run real-time job status information for easy tracking of the work | Configure your keyboard hotkeys to optimise playback, for example, F9 to play and F6 to stop |
| Use a priority setting to assist in "bumping up" urgent recordings in the queue | Switch to the playback control window to quickly access audio controls while typing |
| Encrypt files upon download, and other security features and backup for protecting sensitive data | Customise foot pedal controls to the typist's desired configuration and use a foot pedal to speed up typing |
| Automatically retrieve prepared documents via email or FTP, and link to the corresponding recording | Streamline workflow by building pre-set automated pathways to receive audio from dictation software |
| With pre-installed speech recognition software and licence, and using the dictation device in Direct Recording mode (plugged directly into the PC), simultaneously perform speech recognition and watch the transcript appear in real-time. | Automatically send completed transcripts to the right people or folders. |
| Automatically convert downloaded dictation files to text using compatible speech recognition software (purchased separately) | Use speech recognition to reduce manual typing workload (not available in all transcription software) |
| Manage and modify digital recorder settings, such as device name and Author ID | Sort recordings according to priority. |
| Play and edit downloaded recordings on the PC | Read preferred audio formats |
| Record directly through the dictation software when the recorder is connected to the PC | |
Do I really need both?
Some dictation and transcription software such as ODMS or SpeechExec is designed to work in conjunction with one another. In an office setting, using both is ideal, especially when there is more than one person dictating and transcribing. Combined they allow automated download and file transfer, and efficient allocation. It eliminates the need to manually download, and email every file.
To explain complex and robust software simply; when you plug your dictaphone into your computer, the dictation software is able to automatically download your files, and then send them to your desired folders. Once the files are in these folders, transcription software on the typists' computers will retrieve them. Dictators are able to mark files as a priority, along with a host of other individual configurations.
In a busy office setting where there are multiple typists, having the aforementioned transcription software would save a lot of time for both the dictator and the transcriber. However, if you are transcribing your own dictations, have a small staff, or are working as a typist, software like Express Scribe Pro may be what you're looking for.
If you're ever unsure of which kind of software you need, please don't hesitate to call 1300 662 173 or contact our friendly staff online, and we'd be happy to help answer any questions! Reach out to Pacific Transcription today to learn how our transcription services and transcription products can save you time.
Updated 17/11/2022