Australia-wide Shipping Policy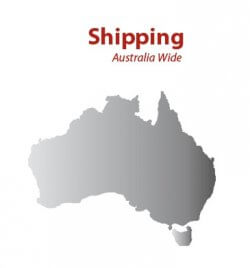 All deliveries within Australia are via Express Post. The exception to this is for products going to a business address within greater Brisbane, which are delivered via CouriersPlease.
Pacific Transcription charges a flat rate of $19.00 per order.  For bulk orders please contact us prior to ordering to confirm the shipping cost.
You may also collect your order from our office in Milton, Qld, and reduce your shipping cost to $0. If you select this option, we will contact you to arrange a pick-up time. Pick-up is available between 9:30 am and 5:00 pm on weekdays.
If you need to arrange your own alternative delivery option please contact us prior to placing an order through our shop.
Items are usually dispatched on the day payment is received, provided they are in stock. Pacific will not dispatch products that have not been paid for.
The Express Post delivery network usually guarantees next-day delivery between Pacific's Brisbane office and most major metropolitan locations in Queensland, Victoria, New South Wales, Tasmania, South Australia (Adelaide only), and Western Australia (Perth only).  Extreme weather conditions and other major events may cause delays in delivery times.
Delivery to other locations within Australia is usually 2-3 days, but for remote areas may take longer.  The local courier service guarantees next-day delivery between Pacific's Brisbane office and most greater Brisbane and southeast Queensland business locations.
See https://auspost.com.au/business/express-post-network-qld.html for more details.
International Shipping Policy
Please contact us prior to placing an order to confirm whether we can ship to your location and the cost.
Stocking Policy
Pacific Transcription generally has the most popular models of the Olympus Professional Dictaphone range and the Philips Professional digital recorder range in stock at all times, as well as a wide variety of professional dictation and transcription accessories and microphones.
If an item is not in stock, we will contact you by phone or email, usually on the day of purchase (excluding weekends) to confirm delivery times for that product.
Currency and Payments Policy
All prices listed are in Australian dollars. All prices include GST.  Payment can be made by credit card (MasterCard, Visa or American Express) through our online shop. No credit card surcharges apply for purchases made through our online shop.  You can also select the Direct Deposit option through our online shop, but please note, that items will not be dispatched until payment is received.  If you require a cheque payment option, please contact us to arrange it.
Returns policy
If you change your mind within 7 days of purchase, we are happy to accept returns of unused, unopened and undamaged products and issue a full refund less postage and handling and a restocking fee equal to 15% of the value of the goods, or exchange it for an alternative product (a second postage and handling charge will apply).
Faulty products are covered under the manufacturer's warranty. Please contact us to arrange a product return or warranty claim.   Olympus products come with a one-year manufacturer's warranty and Philips products come with a two-year manufacturer's warranty for products, and six months warranty for accessories.  For more information on Olympus and Philips warranty periods visit their websites.
Price Matching Policy
Pacific Transcription will consider a price match of any genuine advertised price for Olympus Professional Audio products. Please contact us with the full details of the advertised price, the name of the retailer offering it and whether the retailer has the product in stock so that we can verify the price and conditions.
All prices listed on the Pacific Transcription online shop include GST.
Appointment Cancellation Policy – Service & Support
Pacific Transcription offers a comprehensive suite of technical services which includes Technical Product Support Service, Installation and Training Service, and Product Demonstrations Service.  Pricing for these services may change without notice.  For current pricing please refer to Pacific Transcription's online shop, or call/email the Products Team for assistance.
Pacific Transcription reserves the right to charge a cancellation fee if a service, support, installation or demonstration appointment is cancelled within 24 hours of the appointment time.  A cancellation fee of $70 including GST will be applied, at the discretion of the Pacific Transcription Sales and Support Manager.
If you need to cancel or reschedule your appointment, it is important that you contact the Products Team at Pacific Transcription immediately, on 07 3378 2668.