My Brand New Philips DPM 8000 Dictaphone Has Arrived!
The Philips DPM 8000 Dictaphone Series has arrived with a bang and continues delivering! When I got a glimpse of the new Philips DPM 8000 digital pocket memo through promotional photos I thought, "Hmmm, really nice styling, but I wonder how simple the device will be for clients to use?" Because sometimes with new dictation devices developers get very excited with how many functions they can squeeze into a device, without actually thinking too much about client usability, particularly intuitive use and initial easy setup for individual purposes.
I need not have worried. Once I got the DPM 8000 out of the box I was immediately struck by how comfortable the device was to hold and operate. No turning the device over to see if I'd switched the slide switch to the correct setting (which is a problem I have with some other devices). The most important functions are easily visible and quickly operational.
I flicked through the manual (as I'm one of those annoying people who do read manuals first before tinkering!) and one of the first things I did, after setting date and time, was setting my new DPM 8000 to Classic Mode. Classic Mode you say? As in "classic" in the Hollywood tradition, or a "classic" novel, or even a "classic" look? Well, yes and no. Philips has obviously listened to some of their long time clients, who have wistfully fed back to them that in the "old days" things were simpler. All you had to do was push a few buttons and a recording miraculously happened.
About the DPM 8000 Classic Mode
"Classic" Mode is an analog-look mode, so you get to pretend you are using a push button analog tape-fed Dictaphone, while really getting all the benefits of digital technology. Philips has taken the simple, replicable functions of an analog device and transposed them onto a beautifully designed, easy-to-use digital Dictaphone; and the result is fantastic!
Choosing Audio Formats on the DPM 8000 is easy!
Another thing which really impressed me about the DPM 8000 is the way Philips has designed the way audio format and audio quality is chosen by the user. When we tested it out in various settings I was quietly impressed by the consistently strong audio quality across all settings, including meetings, and personal dictations, which can be attributed to the internal 3D microphone setup. I think it easily rivals the best on the market. Watch out Olympus!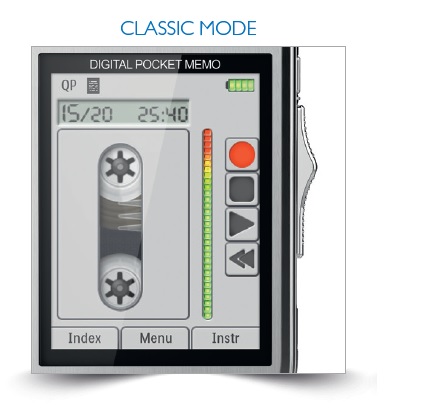 Philips has put a lot of thought into what is intuitive to users when wanting to change audio format and the process for changing format. The process for quickly changing recording formats to suit different recording environments, i.e. to dictate, or record a meeting, is simple – just use the preconfigured recording profiles "Dictate", "Meeting", "Speech Recognition", or "Personal".
The DPM 8000 has a built-in Motion Sensor!
Or you can rely on the clever new feature Philips has included with this new release Dictaphone – a built-in motion sensor, where the sensor automatically selects the best mic setup for the immediate recording environment.
Of course you can also fully personalise or customize these settings yourself so that they most accurately match the event, audio format, microphone settings that you want, through the SpeechExec Pro Dictate software.
The DPM 8000 comes with all the attributes you've come to expect from digital Dictaphones, as well as a few little extra treats which make the device even more flexible for use in today's busy and versatile work environments.
I really like using the DPM 8000. It is easy to use, lightweight, records exceptionally good quality audio across a range of environments (which is important to me), and has everything you need in a Dictaphone. It just makes sense!
If you've outgrown your Philips DPM 8000, why not take a look at our latest digital dictation devices today! Or you can speak directly to the team at Pacific Transcription, the leaders in the professional transcription industry! Call us today on 1300 662 173 or get in touch online!