We Value Your Security – Cyber Essentials and the Importance of Internet Security
We take cyber security very seriously.
As a transcription company, we not only store personal information such as email addresses and phone numbers, but we also manage confidential documents, often with sensitive information. We understand that our clients need to be able to trust us when it comes to protecting their data from digital attacks. To demonstrate our commitment to internet security, we recently completed Cyber Essentials certification.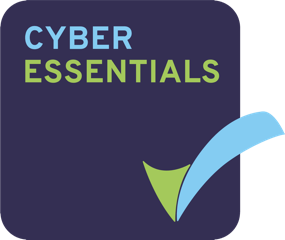 Cyber Essentials is a government-backed scheme which addresses the systems a company has in place to defend itself against phishing, hacking and password guessing. These are the most common types of cyber threats and they require little expertise to be carried out. Unfortunately, this means almost anyone can pose a risk to an organisation, especially one that is ill-equipped.
Cyber Essentials certification ensures that we are safeguarded in the case of such an attack. In order to be certified, we demonstrated successful implementation of five technical controls that aid prevention of these kinds of attacks:
Firewalls
A firewall is a software or hardware set up between your private network and the internet to protect you from outside threats.
Secure Configuration
New computers come with standard configuration settings; however, they may not be the most secure settings and should be altered to suit individual needs.
User Access Control
It is important to limit access of each user account to only the necessary functions. There is no need for every employee to have the same access as admin.
Malware Protection
Malware protection software protects against viruses seeking to mine private information.
Software Patch Management
All software and operating systems should be up to date, including upgrades and patches.
At Pacific Transcription we believe in and practice continuous improvement. Next year, in 2020, we will be completing the ISO 27001 certificate. Unlike Cyber Essentials, ISO 27001 approaches internet security from the perspective of maintenance, implementation, and continual improvement. We understand that technology is constantly changing and therefore so should our security measures. ISO 27001 will ensure we are continually re-examining and addressing any vulnerabilities that may arise.
We hope that our dedication to cyber security encourages our clients to continue putting their trust in Pacific Transcription.
Contact us today to find out more about how our Cyber Essentials certification benefits our clients!