The simplicity of outsourcing transcription services: A two minute summary of a two minute process
So you're getting down to business and want to know just how quick and easy it is to start outsourcing transcription services?  You'll be pleased to know that it only takes a few minutes of your time to start outsourcing your transcription requirements with a professional transcription company like Pacific Transcription. We like to talk things through with you to make an accurate assessment of your requirements so we can provide you with truly satisfactory services.  Here's a short summary of how we go about it.
First Step to Outsourcing Transcription Services – Contact Pacific Transcription with the details of what work you need done.
You may have a simple transcription request with standard turnaround of 2 to 4 working days and transcribed into a regular template; or more complex requirements, such as urgent turnaround, confidentiality requirements, volume of work, content of audio files, number of speakers, audio quality, style of transcript that you require (strict verbatim, conversational analysis style, intelligent verbatim).
Talk with us about these and any other questions or thoughts you may have.  It might help to have a brief look at our website before calling or emailing to understand the type of work we undertake. In saying that, we are constantly expanding our services and are flexible enough to accommodate the vast majority of work we encounter.
Second Step to Outsourcing Your Transcripts – Ask Pacific Transcription for rates and a quote.
We send you our rates sheet or a quote for you to look over. For a more definite quote, we would usually request a sample of the audio. Without a sample we won't be able to assess aspects like audio quality and difficulty of interviewee accents which can affect the rate.
Third Step to Outsourcing Your Transcripts – Create a secure online account with Pacific Transcription.
On confirmation from you to trial or begin using our services, we will create a secure online account for you (or you can create one yourself, via our website).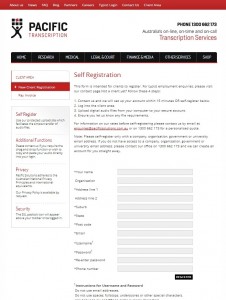 It is in this account that you will upload your audio files, and also where we return the completed transcripts, for you to download. (We can, on request, send files via email or other secure file share methods.) You will receive an email with instructions on how to upload and download files.
Fourth Step to Outsourcing Your Transcripts – Let Pacific Transcription know if you have any special instructions.
You will also be asked if you have any notes regarding style, identification of speakers, or specific templates you would like used.  You can add these notes to files yourself, once you have uploaded all your files, or pass them on to a staff member to record.  We can also provide basic templates, or create templates at your request.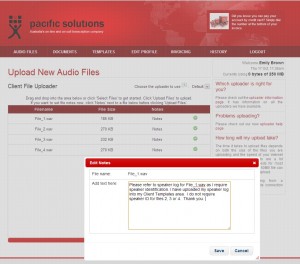 Fifth Step to Outsourcing Your Transcripts – Upload your files!
We are always available to assist via phone or email, and you can find videos on our website and blog which demonstrate how to do this. We will contact you should we have any questions after beginning work, or in the rare instance that there is an issue with the file.
Sixth Step to Outsourcing Your Transcripts – We return the files to you in the requested time period.
You can download the completed transcripts from your secure online account, or request us to email them to you.  We ask that you let us know as soon as possible should you have any issues with the returned transcript.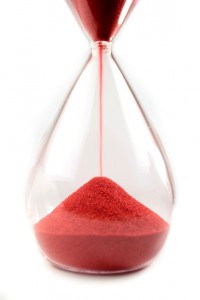 Seventh Step to Outsourcing Transcription Services – We issue you with a tax invoice, for payment.
We send you an invoice, to be paid within 10 days of receipt of invoice.  Invoices are sent each month or more frequently depending on both the type of work and request from the client.
Outsourcing Transcription Services – It's that easy!
Within a few minutes you can have an account set up over the phone or by self-registering on our website.  A few minutes later, your first files can be uploaded and we can start work.  Downloading transcripts when complete and paying invoices via the various methods we offer only adds another minute or two here and there. It really is as simple as that, so take a minute to try it out and see for yourself.
If you would like to learn more about outsourcing transcription services, get in touch with our transcription services team on 1300 662 173 or fill out our online contact form.
Posted by Emily Bellingham
Updated 21/04/2022